To make the students globally competent by technology Infused learning."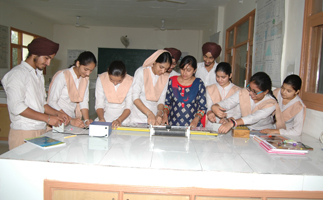 Science Labs
The school has the most modern and sophisticated Physics, Chemistry, Biology, Mathematics laboratories fully equipped to cater to the needs of the students upto senior secondary level.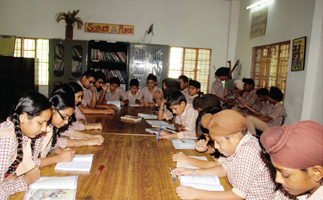 School Library
Special attention has been paid to our students with a well-stocked and spacious library to provide the ideal ambience for learning. It house a precious collection of more than 14,500 books, cd's and audio-visual on a wide range of subjects. It always keeps a number of latest periodicals, journals, educative magazines and leading newspapers to inculcate the habit of reading as well as to keep the children aware of the current issuses.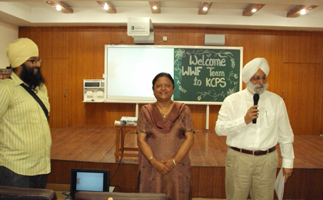 Air-conditioned Multimedia Hall
There is Air conditioned Multimedia Hall with the capacity of 200 people which is used by the students and teachers for workshops group discussions, model class presentations seminars, orientation and counselling sessions.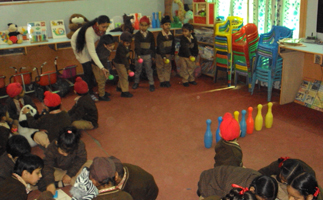 Activity Room
Nursery Hall or Activity Hall well equipped with educative toys and other attractions like see-saw, swings, tri-cycles, jumpers etc.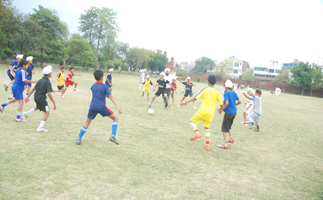 Spacious Playgrounds
Spacious and lush green playgrounds have been provided to bring about general physical fitness among the students so as to develop a sence of sportsmanship.
Multipurpose Activity Hall
Multipurpose activity hall which is Spacious enough for collective activitives like Morning Assembly and Various Cultural Functions. .
Smart Class Rooms
Digital Infrastructure has been set up in KCPS to integrate the students' education in the form of 21 smart class rooms.
Our High Tech. Infra-Structural Wealth
During the last few years, there has been a tremendous change in the school infrastructure which is being appreciated by each and everyone. It has all been possible by the continuous support of our Management.
We take pride to announce that we are doing most of our administration work i.e. salary, fee, library work, students database, staff information, details of infrastructure under e-governance by saving precious commodity i.e. paper which ultimately along way in saving environment.

Well maintain school building with spacious classrooms, lush green garden and play grounds are a big attraction.

We have 22 smart class rooms with interactive boards, to make teaching more interactive, informative and child-friendly.

Two computer labs with 50 computers has been established in the school. We have computer education classes from 1st to 10th and infra motive practices in classes 11th and 12th. So now we have two high tech computer labs with more than 50 computers with latest technologies.

Well-equipped Activity room in the nursery wing and one in the primary department have been a centre of attraction for our children. In fact recent revamping of pre-primary and primary wing is a big achievement of the school. We believe that activity based learning, personal care and individual attention to each student with home like secured and friendly atmosphere is very important to nurture the child to blossom fully.

We have a well-furnished Multimedia/Seminar Hall where various conference, Model Class Presentation, Parents Orientation Session, Symposiums, Seminars Quizzing competitions are held and it provides good support to all kinds of events being held here.

We have a grand Multipurpose Hall which is the centre of various activities and Morning Assembly is held here.

We have a grand Multipurpose Hall which is the centre of various activities and Morning Assembly is held here.

New outlook has been given to the Canteen and Bookshop of the school. A rodi bed has been prepared with locking tiles between the main building and the Canteen. Renovation of Sports room, new Cycle Stand for students and Scooter Stand for teachers has been made.

Well equipped Maths, Social Science lab as well as language lab is introduced with the latest facilities. Well set Art and Craft room is also child friendly and inculcates love to learn Art and Craft.

Spacious and well-equipped Physics, Chemistry and Biology labs are made in the new Science Block in which all the latest equipments and instruments and other required apparatus are provided which make students comfortable to perform various experiments and to understand different concepts in an easy manner.

In order to give a smart look to the school, the school premises has been upkept with all the surrounding areas of G.T. road as well as side lawns were revamped. Various plants as well as flower beds have been setup which gives an aesthetic appeal to the school. All this work has been carried out through various work departments of Khalsa College as well as plantation work was done with the help of Pingalwara Society, Amritsar.

The Hi-Tech Language Lab is established in the school to improve the listening and speaking skills of the students and to improve their spoken English.

We have introduced a seminar room for students.

A new block of 10 rooms is added over the lab unit and another block is under construction.

For the safety of our students buses and vans have been introduced instead of auto-rickshaws.
We have revamped the entire look of the school with glazed flooring, new washrooms. RO's on each floor, C.C.E., Regular Students Information Messaging to the parents, renovation of whole furniture of the school to name a few changes. Hence such advance facilities with good facilitators are adding to all round development of our students. Recently we have also appointed many well trained highly educated teachers to enhance the education system in the school and to nurture and facilitate our students to become god human beings and smart professionals.